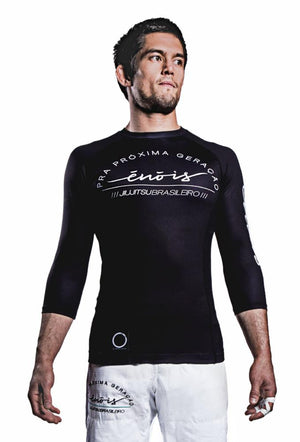 Classic Ranked Compression Rashguard
Sale price Price $ 24.50 Regular price $ 49.00
 NEW CUSTOM COMPRESSION FABRIC BLEND - UNIQUE TO E NOIS
SIZING
* These are real compression rashguards, so they fit tight.  If you don't want it to fit tight, order a size bigger than the chart recommends for your size. 
* 3/4 Sleeves - long enough to protect, short enough that your opponent can't use your rashguard to improve their grip strength
FABRICS
* This is a custom fabric blend - unique to E Nois.  It offers the strength and compression of a nylon rashguard with the sublimated art of a polyester (meaning the print will never chip or come off).  Gotta try these out to believe it.
* Silicon grip at the bottom of the rashguard keeps it from slipping up.
* Available in all belt colors.